My philosophy on doll repair and doll restoration is to do as little to a doll as necessary. In my Doll Hospital, I restore vintage dolls and antique dolls. I specialize in bisque, porcelain, composition, hard plastic and felt. Being a certified Dollologist means I strive to maintain the integrity of the doll.
I have over 11 years of doll repair experience and I have 2 certifications in doll repair and advanced doll restorations. I also have a business license. Does the doll doctor you are considering have these credentials? It brings me great joy to restore family treasures and future heirlooms.
I am a member of the UFDC and a past Vice President of the Doll Doctors' Association.
Currently published in the November 2011 issue of Coast Magazine.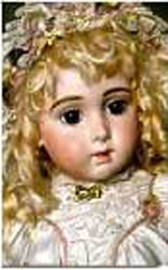 Dr. Toni's Doll Repair,
Doll Restoration and
Doll Repair Training
My Doll Hospital is located in
Sunny Southern California
Patients seen by appointment only!
You are visitor
Web Site comments: webmaster@dolldoctor.net
Web Site By: Foster's Website Development
Select a button to view before & after pictures of dolls in my doll hospital:
Composition doll repair for cracked, broken or damaged doll parts.
Rebuild broken or missing fingers and toes.

Bisque doll repair and porcelain doll repair for cracked, broken
or damaged doll parts. Rebuild broken or missing fingers and toes.
Repair leather and cloth bodies. Clean doll. Clean and style hair.
Clean clothes.
Hard plastic doll repair for cracked , broken or damaged dolls.
Replace or repair broken or missing parts.

Re-string, re-paint and restore Schoenhut Wooden Toys

Replace rusted, broken, missing or makeshift hooks.
Re-String Doll with new rubber bands or elastic cord.
The grass withereth, the flower fadeth:
but the word of our God shall stand for ever.
Isaiah 40
Reset sleep eyes and stationary eyes. Clean and repair
damaged eyes. Replace damaged or missing eyes.
To ask the Doll Doctor a question or to Request more information about the doll hospital, including information about upcoming training classes at my doll hospital, click on my Email address: doctoni@dolldoctor.net
Include pictures if available, jpg or gif format preferable.
Or you can call Dr. Toni at (714)785-6998 for an appointment.
Re-Paint entire doll or re-paint doll parts to match.
Re-Paint eye brows and eye lashes.
Doll Repair Training is now available.
Click here for class schedule and subjects covered.